Alumni
last updated: 18-11-2013
This page is dedicated to the graduates of our bachelor and master study programs.
Bellow, some of our former students present their experience within our department and the way it influenced their career so far. The complete lists of graduates can be found at the bottom of this page.
Baidic Robert Paul
Department manager, Project Development and Implementation Office, Bihor County Council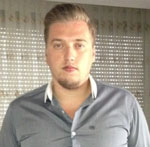 For me RISE meant more than a faculty where the emphasis is put only on theory. It meant a specialization where theory is combined with interactive teaching methods, with well trained teachers, with practice modules and the chance to participate in student exchanges programmes abroad. All these give you the opportunity to portray a realistic and practical vision about available career opportunities and the steps that must be taken to achieve what you want. It is a specialization which offers you the opportunities that are necessary for both professional and personal development.
Mara Bota
Contracts and aquisitions, Inteva Products, Salonta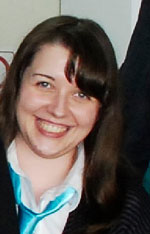 My name is Mara Bota, I have graduated from the International Relations and European Studies faculty in 2008 and I'm currently finalizing my masters degree in Regional Development and Institutional Communication in EU. I'm also working at an American global company from the automotive industry in the Purchasing department as a plant/program buyer. My job there implies managing a large portion of our supplier base as well as supervising the development of some new projects, all this building a very dynamic, complex, provocative but also very satisfying work environment, within a beautiful team of professionals. I can definitely say that I use a great deal of the knowledge I have gained during my academic studies, from using foreign languages – a "must-have" in an international business environment, the global economy classes – the terms from this field I use on daily basis, international and EU law, the history/theory of international relations – useful for a deeper understanding of the culture of the people you work with, as well as the negotiations and protocol classes – with a major applicability in my chosen profession. I'm proud to be one of the IRES graduates and I consider myself lucky to have succeeded to find a job that allows me to develop my potential with the help of the tools given by this young faculty which continues to evolve along with its students.
Raul Derecichei
Director general, Federatia Patronilor Bihor
The experience gathered during the years that I have studied at the specialization of International Relations and European Studies meant the process that allowed me to get the knowledge, competences and talents that my daily duties require to be preferment.
Regardless the obstacles that rise in my activity at a daily bases the knowledge, competences and talents that I learned while I was a student help me to solve them in a diplomatic manner, with tact and with perseverance. The school is the stage that allows you to be part of the play…but you (the student) is the one that animates the job that you prepare for so you can become a good professional.
Cosmin Pop
PhD Student, UBB, Cluj-Napoca
The courses I followed at the University of Oradea proved to be the cornerstone of my professional carrier; getting in touch with some extremely competent people enkindled my interest to move forward and fight against all the inherent obstacles of a provincial system of behavior and social reality. I have studied one year in France, through the Erasmus programme, and now I am a PhD student at the Babes-Bolyai University, Cluj-Napoca (2nd year at the Doctoral School: International Relations and Security Studies). The solution consists of precise assessment of priorities and the nonacceptance of early resignation.
Alexandru Niederhoffer
T-Systems, Debrecen
My studies at the University of Oradea, at the Faculty of History, Geography and International Relations, and later on my master1s degree in Regional Development and Institutional Communication has helped me understand and develop a way of thinking that made me today the person that I am. At this time I am working at ITSH Debrecen, Hungary, part of Deutsche Telekom. Although this is an IT company, my studies have helped me move up the ladder in a managerial position. I have been able to use all my experience gathered from the time spent in the University of Oradea. Some of the most important things that helped me in my career are: the conference participation, the Erasmus-Leonardo scholarship in Spain, Alicante; but also all my studies in general. Now I am much better prepared to work in an international environment and deal with different culture and people issues.
Mirela Mărcuţ
PhD Student at the Babeș-Bolyai University, Cluj-Napoca, Romania – Second year, Faculty of History and Philosophy, International Relations and Security Studies PhD School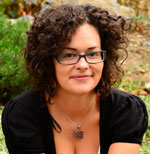 Mészáros Edina Lilla
PhD Student at the Babeș-Bolyai University, Cluj-Napoca, Romania – Second year, Faculty of History and Philosophy, International Relations and Security Studies PhD School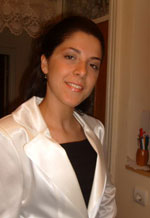 My name is Mészáros Edina Lilla and I have graduated at the University of Oradea, in Romania, at the Faculty of History, Geography, International Relations and European Studies, where I earned a Master degree in Euro-regional Studies and Cross-border Co-operation (2010), and a Bachelor Degree in International Relations and European Studies(2008), and currently I'm doing my PhD. studies at the Babes-Bolyai University from Cluj-Napoca. Choosing this specialization was one of the best choices of my life, because besides the rich educational offer and highly skilled teachers, it also gave me many invaluable opportunities. These include: summer schools, conferences, exchange programs, internships and various national and international simulations, which all have broadened my horizon and prepared me for the future role played on the labour market. Graduation in Political Sciences has provided a strong foundation in understanding the way how the European Union works and makes itself heard on the international stage, and in the same time also a career, currently being one of the associate assistants of the university, giving me the chance to follow my dreams and to reach my objectives in a young, dynamic and professional environment.
Adelina Demian
Human Resources, European Asylum Support Office – Malta
RISE, by title, already transposed in opening my international career. The two scholarships during my studies, Erasmus-study in Scotland and Leonadro-placement in France have opened new horizons for me. During my Master, RISE Department in Oradea, proving always a high level of professionalism and European thinking, supported me during a series of internships at the European Institutions: European Parliament- Luxembourg, Europol – The Netherlands, and the European Bank Investment-Luxembourg. Currently, I am working in the European Administration in Human Resources in the EUROPEAN ASYLUM SUPPORT OFFICE, in Malta.
Victor Mincu
International Relations Expert, Presstrade Romania SRL
RISE for me has meant a foundation in what it means to work, to think constructively and to have an European mentality. The professors have guided me in my professional training and supported me with professionalism.
The opportunities and experiences offered by RISE have been implemented in to my career.
At present, I am working as an expert in foreign relations with responsibilities in the sales department and IT department within a Romanian-German international trade company, Presstrade Romania.
Adriana Popescu
International Relations Expert, SC Emsil Techtrans SRL Oradea
I must confess that I am truly honored to describe in a few words how the quality of graduating the International Relations and European Studies specialization prepared me to face challenges and taught me to embrace opportunities. The foreign relations expert position held since 2012 in a Romanian company in Oradea is due largely to everything I met and I was offered within the aforementioned specialization, namely: knowledge, curiosity, enthusiasm, reliability or patience.
Licensing and then the entering into a new working environment made a challenge that must be faced constantly. At present, the foreign relations expert position highlights everything that incorporates the commercial relations field, from offer requests, supplying, acquisitions, offers, contracting, marketing projects and till to maintaining and developing relations with customers, collaborators. Just based on these considerations sincerely I believe that today I benefit from the contribution of International Relations and European Studies in my formation as a foreign relations expert.
The courses of this specialization I can say that they have a wide open view towards opportunities, towards the creation of spaces for action and towards the development of human personality. In this way, the curriculum of this specialization with all adjacent branches drew a clear vision over all the aspects regarding the understanding of nuances of inter-personal, intra-community and inter / intra-organizational relations. So, today, because of this situation, I can set priorities, undertake researches, perform analytical assessments, make decisions in different conditions of incomplete information, find solutions and especially I can work with specific terms. All in all, I can manage a wide range of issues. In addition, the skills and ability to present and support my views in an argumentative way, to amiable solve problems, to communicate and to negotiate various situations are undoubtedly other resources, opportunities of International Relations.
Therefore not casually, here was assured the development of the ability to work in a team, to maintain functional relationships of working, of cooperation in a multicultural environment. The capacity to work in a group, to interact with other media was supported by provided access to scholarships and internships that guarantees high quality specialization in various fields and the experience needed for employment. Last but not least, it must be considered the importance that is assigned to languages. I appreciate the access and the openness towards these because ultimately they mediate the dialogue, the cooperation, the mutual understanding and the accomplishments.
If I could sum up, I would say that International Relations and European Studies actually represent a real experience that changes perspectives and can open the door towards large opportunities. As a graduate of International Relations and European Studies I found that the value of this specialization lies in fact in the complexity and diversity of areas, topics covered and especially the trust that is transmitted in order to state later that we have the ability to change things.
Finally, I want to take this opportunity to point out that beyond the offered access to the theoretical and practical part, this would not be possible without the contribution of high quality prepared professors and therefore I wish to thank all the professors not only for teaching their courses, but for the involvement and dedication with which they deliver us a part of their knowledge.
Lists of graduates by year and specialization:
2012
International Relations and European Studies (bachelor's degree)
Euroregional Studies and Crossborder Cooperation (master degree)
EU Regional Development and Institutional Communication (master degree)
European Security (master degree)
2011
International Relations and European Studies (bachelor's degree)
Euroregional Studies and Crossborder Cooperation (master degree)
EU Regional Development and Institutional Communication (master degree)
European Security (master degree)
2010
International Relations and European Studies (bachelor's degree)
Political, Economical and Social Communication (master degree)
Regional and Euroregional in Public Administration (master degree)
Euroregional Studies and Crossborder Cooperation (master degree)
European Integration (master degree)
2009
International Relations and European Studies (bachelor's degree)
Political, Economical and Social Communication (master degree)
Regional and Euroregional in Public Administration (master degree)
2008
International Relations and European Studies (the last 4 year bachelor's degree)
International Relations and European Studies (3 year bachelor's degree)
Political, Economical and Social Communication (master degree)
Crossborder relations (master degree)
Regional and Euroregional in Public Administration (master degree)
2007
International Relations and European Studies (4 year bachelor's degree)
Political, Economical and Social Communication (master degree)
Crossborder relations (master degree)
Regional and Euroregional in Public Administration (master degree)
2006
Political, Economical and Social Communication (master degree)
Crossborder relations (master degree)
Regional and Euroregional in Public Administration (master degree)
2005
Political, Economical and Social Communication (master degree)
Crossborder relations (master degree)
Regional and Euroregional in Public Administration (master degree)
2004
Political, Economical and Social Communication (master degree)
Rural World and its Modernization in Euroregional Context (master degree)
Crossborder relations (master degree)
2003
Euroregional Studies (master degree)
Crossborder relations (master degree)